Lighting the Line was a public art project led by DS4SI in partnership with the Boston Foundation (TBF) , the MBTA and many community partners. To celebrate the culturally rich Boston neighborhoods that are joined by the recently renovated Fairmount-Indigo Commuter Line, Lighting the Line included community parties and bridge lightings in the Roxbury, Dorchester, Mattapan and Hyde Park neighborhoods connected by the line. The idea for "Lighting the Line" emerged from our productive fiction "Lighting the Bridge" [link] which temporarily lit up the Upham's Corner rail bridge in response to resident concern about the underpass as unsafe. Inspired by its success, TBF decided to fund a permanent bridge lighting at Upham's Corner, along with temporary lightings by community artists in the other communities along the line.
Inspired by this success, "Lighting the Line" highlights stations, bridges and communities along the Fairmount Cultural Corridor. Tonight local artists, merchants, community groups and residents are showing off their talents—from amazing photography to interactive lights, cultural performances and delicious foods. With the pinnacle piece—the semi-permanent lighting installation by artist John Powell that we will unveil tonight—we hope to bring to life the original desires of the Upham's Corner community. And with the audience in front of me—from Hyde Park to Mattapan to Dorchester, Roxbury and all over Boston, we want to not just Light the Line, but to shed a proud light on all the diverse families and communities who live, work and play along it.
Through a series of bridge lighting installations. The bridge lightings and community engagement projects come out of three years of creative placemaking work with the Fairmount Cultural Corridor, where local arts and cultural activities are bringing people together to both celebrate and have a voice in shaping their neighborhoods.
Many thanks to all our community partners, community artists, our Artist in Transit--Aziza Robinson-Goodnight--and the whole team of party planners and performers!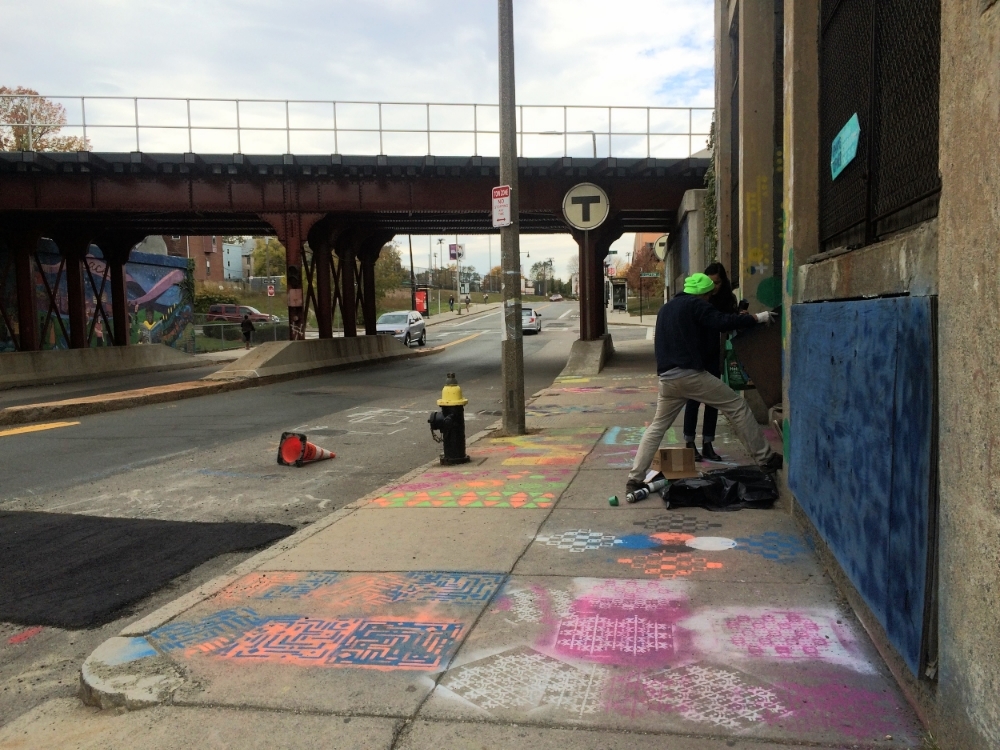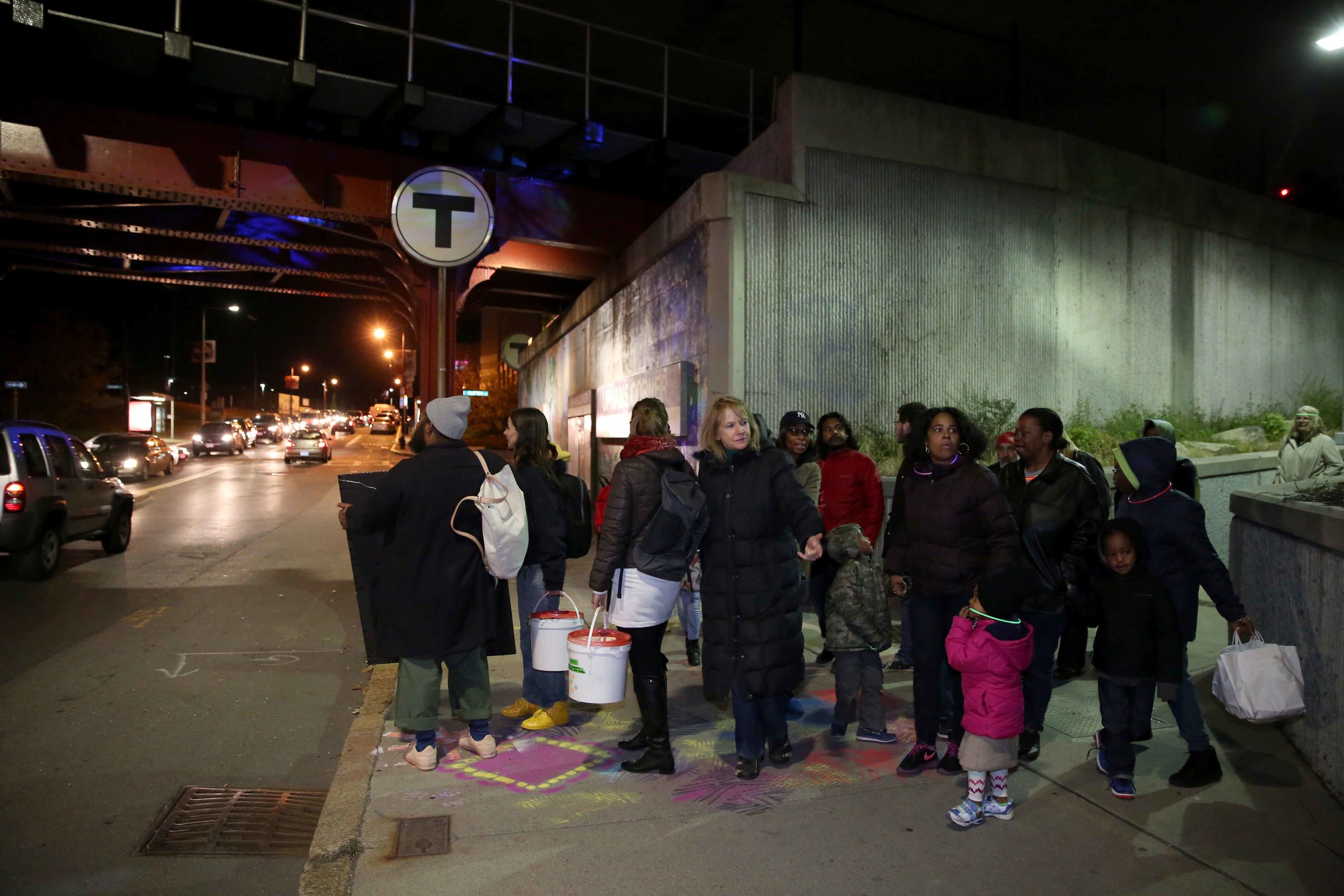 Photography by Dominic Chavez, Olivia Deng, Hannah Tosi, Angela Rowlings
Upham's Corner Station / Dudley Street Bridge Artists
We are thrilled to announce our 2 commissioned artists for the Upham's Corner Station Bridge Lighting:
Silvia Lopez Chavez
"My work investigates our basic human need to connect with each other on multiple levels: socially, politically and culturally. I explore the intellectual and emotional narratives of joy, struggle, acceptance and assimilation as well as the change and growth that affect daily life. I have a multilayered process that includes experimenting with medium, color, line, repetition and form. Combining traditional methods of drawing and painting with experimental techniques in printmaking and collage, my practice is both representational and abstract." For examples of Sylvia's work, check her website: http://silvialopezchavez.com
Lopez Chavez's"Color Up" community engagement project will provide an opportunity for neighbors to participate in creative activities where they can share their ideas and vision for the bridge area. Their input will inform the design of pattern stencils created by the artist, which will be applied with colorful temporary spray. The color patterns hope to reflect many local cultures and help enliven the gray/beige colors that dominate the area around the bridge.
John Powell
"In short, I like to work with bridges. A bridge is a positive structure that defines what appears to be the negative or dark space underneath. Light activates this space, making it part of the life of the bridge— what the bridge crosses is now revealed as positive space. I've worked with the scaffold that surrounds the Little Building at Emerson College and the brand new fifteen story student dorm at Berklee College of music. A project can last one night or twenty years..." For examples from his work, visit his website: http://www.lighttimeinspace.com
Powell's proposal for the Upham's Corner station bridge responds to pedestrian's concerns about low-light under the bridge as well as widespread support for the current murals that celebrate Cape Verdean and Puerto Rican culture. His design will illuminate the underpass while animating the bridge with light projections of color and images that reflect the beautiful murals underneath. His project is also supported by Dudley Street Neighborhood Initiative.